Wedding entertainment is an essential aspect of the celebration that sets the atmosphere and brings enjoyment to guests.
With countless options available, finding the perfect entertainment for your wedding can be overwhelming.
Whether you're seeking a live performance, a DJ or disco, interactive activities, or unique ideas, the possibilities are truly endless.
As you plan your wedding reception, consider incorporating various activities and forms of entertainment to suit the preferences of your diverse guest list.
It's essential to strike a balance between providing memorable experiences and accommodating those adjusting to the Covid pandemic.
By exploring different types of entertainment, you'll create an unforgettable celebration that caters to all.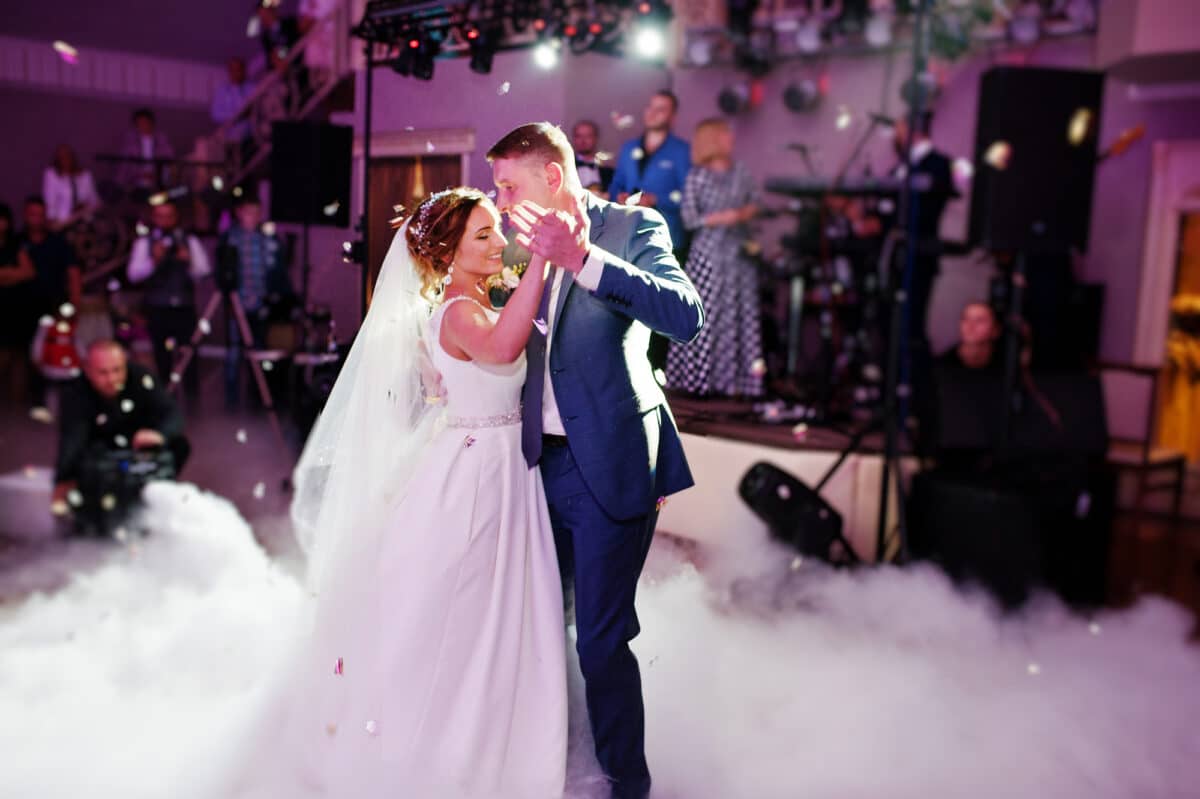 Key Takeaways
Consider a variety of entertainment types for a memorable experience
Balance entertainment options for diverse guest preferences
Be mindful of Covid pandemic adjustments while planning
Types of Wedding Entertainment
A wedding is a celebration of love and commitment, and the reception is the perfect opportunity to provide memorable entertainment for guests.
There are several types of entertainment to consider that appeal to various interests and preferences.
One popular choice is a live band.
Incorporating live music into a wedding reception creates a unique and energetic atmosphere.
Selecting a band or genre that embodies the couple's personality and theme enhances the overall experience for guests.
For example, a vintage jazz band or a retro funk group will make a statement and keep the dance floor lively.
For those who prefer a touch of humor, a stand-up comedian can provide a lighthearted and enjoyable experience during the reception.
Hiring a local comedian to perform a short set while guests enjoy dinner adds a twist to traditional wedding entertainment.
Outdoor weddings can be enhanced with activities such as giant garden games, including croquet, mini-golf, Jenga, Connect Four, and life-size chess, offering guests a chance to mingle and have fun.
Additional options like sack races, bowling pins, and a limbo set also add an element of friendly competition to the celebration.
For couples who seek a lively, interactive entertainment option, consider incorporating fireworks or a sparkler send-off.
These visually stunning displays end the night on a high note and create an unforgettable experience for all attendees.
Another unique option is to introduce a cultural performance, such as traditional lion dancers.
This visually captivating act not only honors Chinese heritage but also leaves guests in awe with its bright costumes and mesmerizing movements.
By providing a variety of entertainment options at the wedding reception, couples can create a memorable and enjoyable experience for their guests.
Tailoring the entertainment to the couple's personalities and interests ensures a celebration that reflects their love story and leaves a lasting impression.
Live Performances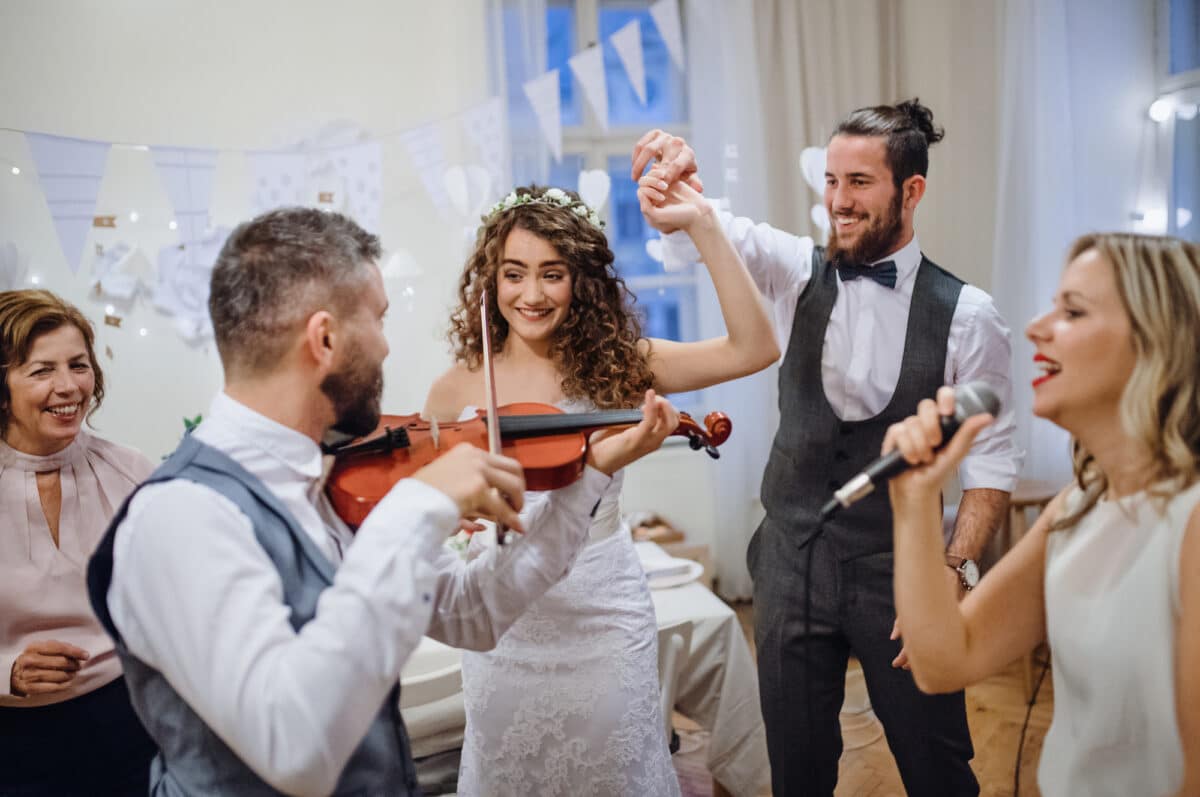 Live Band
A live band can bring energy and excitement to a wedding, creating an unforgettable experience for guests.
Consider choosing a band or genre that veers from the standard wedding music, such as a vintage jazz band or a group with a more upbeat, rocking sound.
Bands are versatile and can perform during the ceremony, the reception, or the first dance.
For destination weddings, opt for a local band that represents the cultural music of the country, making the experience even more memorable.
String Quartet
A string quartet brings an elegant touch to a wedding ceremony, providing classical music for guests to enjoy while they wait for the big moment.
Many quartets can also perform contemporary songs, allowing the couple to customize their musical selection to better suit their personalities and the atmosphere of the event.
Harpist
A professional harpist performing during the ceremony or cocktail hour adds a touch of sophistication and romance to the wedding.
The harp's soft and melodic tunes create a calming atmosphere, making it a perfect addition to an intimate and formal gathering.
Jazz Band
Incorporating a jazz band into the wedding celebration can set the mood for an evening of fun and dancing.
Jazz bands are versatile, able to play a range of styles from classic standards to modern interpretations.
Couples who enjoy this vibrant music can consider a jazz band for their ceremony, cocktail hour, or as the main entertainment for their reception.
Dancers
Dance performances can add a unique and entertaining element to the wedding celebration.
Professional dance troupes or culturally-specific dance groups can be brought in to showcase their skills, reflecting the couple's interests or cultural background.
Couples can even host a dance-off competition among their guests, which can encourage mingling and engagement throughout the night.
DJs and Discos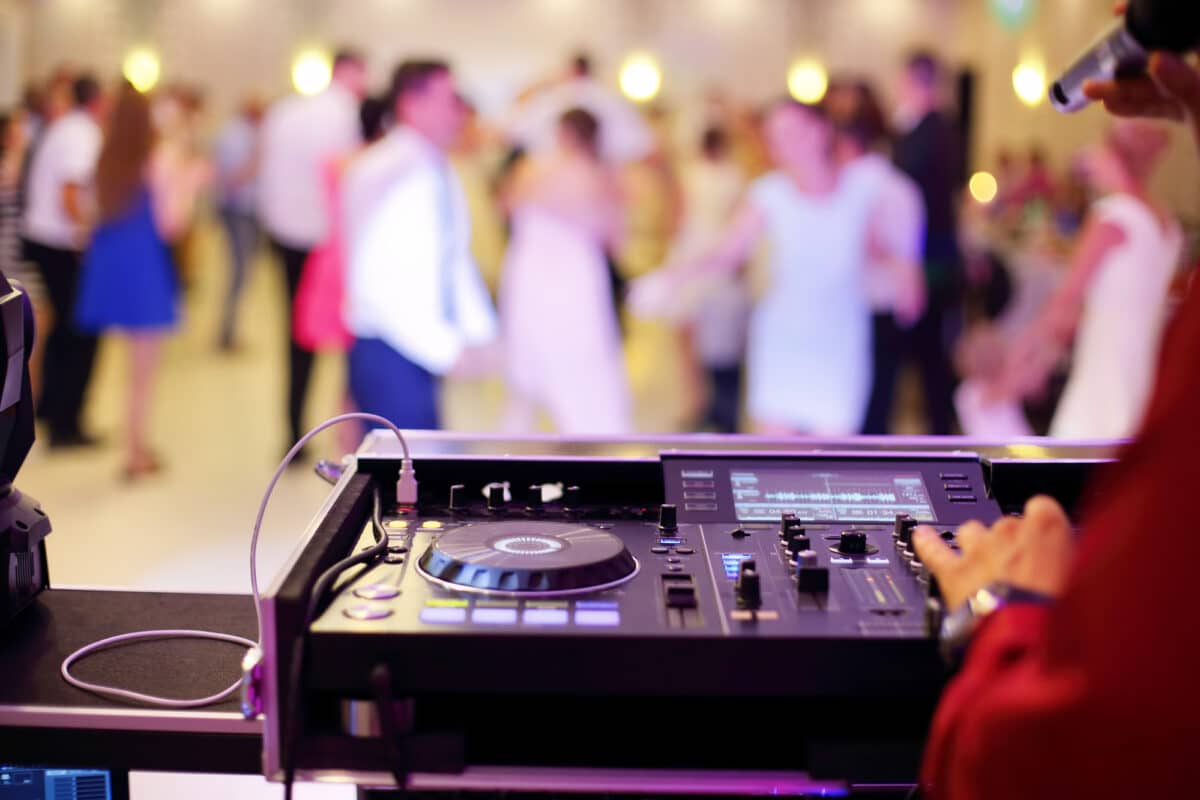 DJ Services
A professional wedding DJ plays an essential role in creating a memorable and enjoyable reception.
In addition to playing music, they are responsible for key aspects of your ceremony and celebration.
They cue your ceremony music, announce the grand entrance, manage the timeline, and is in charge of the technical sound aspect of the ceremony.
Wedding reception entertainment comes in various forms, but a DJ is a modern and increasingly popular option over live music.
When choosing a wedding DJ, make sure they are suitable for wedding receptions and specifically tailored to your tastes and preferences.
A good DJ can cater to different music genres, from pop and rock to jazz and classical, ensuring an immersive and entertaining experience for you and your guests.
Karaoke options can also be included, allowing guests to sing along to their favorite tunes and adding a significant interactive element to your event.
Silent Disco
An increasingly popular trend in wedding entertainment is the silent disco.
A silent disco is a unique and engaging option for those looking for a more personalized experience for their guests.
With this setup, each guest receives a pair of wireless headphones, and they can choose between different music channels offered by the DJ.
This allows everyone to enjoy the music they love and switch between genres or slow/fast songs with ease.
A silent disco is an excellent option for venues with noise restrictions or receptions that extend late into the night.
Guests can dance to their heart's content without disturbing neighbors or breaking noise ordinances.
It also offers a more inclusive environment for people with different music tastes, ensuring everybody has an entertaining time at your wedding reception.
DJs and discos provide diverse entertainment options that cater to various tastes and preferences, ensuring a lively reception that your guests will remember for years to come.
Whether you choose a traditional DJ service or the unique silent disco experience, you're taking a step toward creating an unforgettable event.
Interactive Activities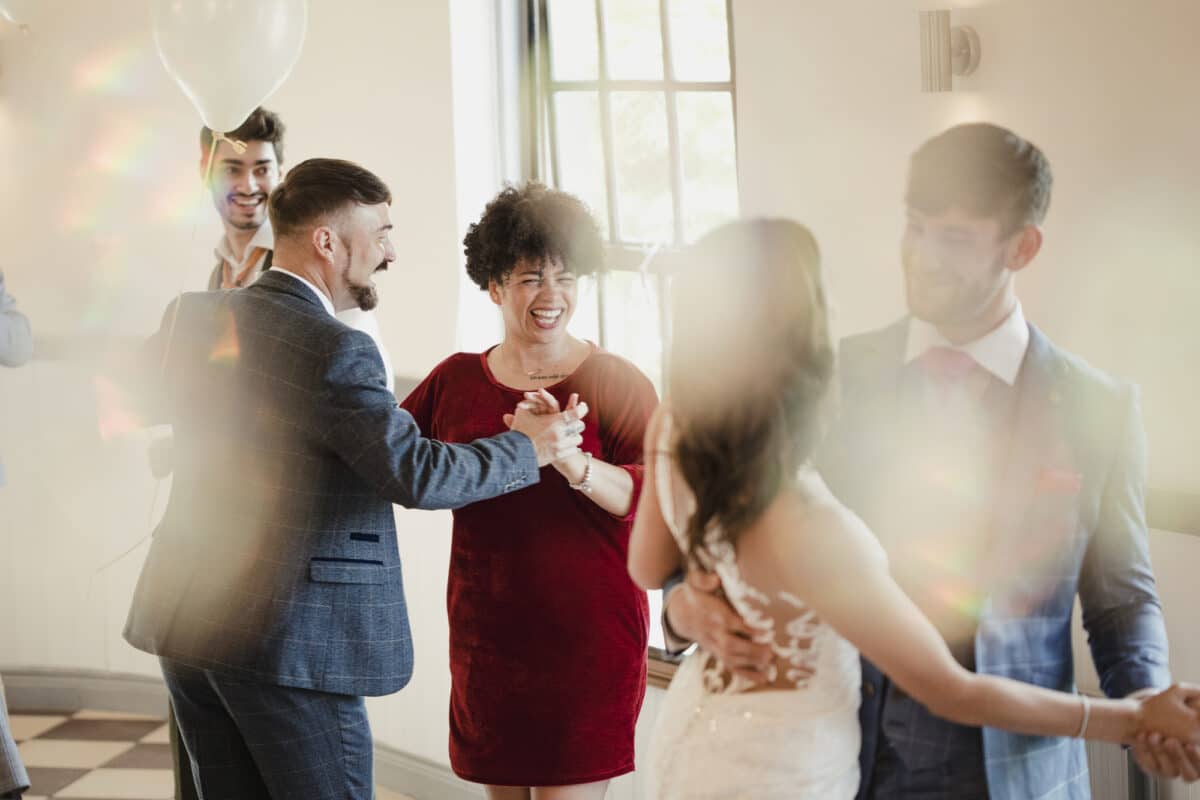 Games
One popular way to keep your guests entertained and engaged during your wedding reception is by incorporating interactive games into the event.
These games can range from classic options such as table tennis, Jenga, or Giant Garden Jenga to more unique activities like wedding lawn games, which are perfect for outdoor venues with beautiful weather.
The key to successful wedding entertainment ideas is to select games that are easy for guests of all ages and skill levels to participate in.
Another option is to hire a magician to perform roaming magic for your guests.
A skilled magician can engage small groups of guests during the cocktail hour or while they wait for dinner, adding an element of surprise and wonder to your special day.
DIY Entertainment
If you prefer a more hands-on approach to your wedding's interactive aspect, consider offering DIY entertainment options for your guests.
Setting up a DIY s'mores station by campfires or fire pits can create an inviting atmosphere that encourages guests to interact with one another while enjoying a sweet treat.
For an artistic touch, you can provide materials for guests to create their own wedding favors, such as personalized ornaments or painted wine glasses.
Incorporating dancing into your wedding reception can also encourage interaction and enjoyment among guests.
You can plan a variety of dance styles or even offer dance lessons during the cocktail hour for those who may need some guidance.
This not only entertains your guests but also helps them feel more comfortable and confident on the dance floor as the night unfolds.
When planning your interactive activities, keep the event's theme and the preferences of your guests in mind to ensure that all your chosen entertainment ideas are enjoyable and engaging for everyone in attendance.
Unique Ideas
Fireworks Display
A fireworks display can add a dazzling touch to your wedding celebration.
This type of entertainment is best suited for outdoor venues, especially during the evening. To ensure safety, hire a professional company to handle the logistics and planning.
You can also consider involving your guests by providing them with sparklers.
Live Painter
Incorporating a live painter into your wedding adds a personalized and artistic element to your special day. A live painter can capture moments from your ceremony, cocktail hour, or reception.
This creates both a unique form of entertainment for your guests and a treasured keepsake for you to cherish for years to come.
Aerialist Performers
Aerialist performers are an exciting and unique addition to your wedding entertainment lineup.
These talented artists can perform impressive acrobatic feats while suspended in the air, creating a dynamic visual spectacle.
Ensure that your wedding venue can accommodate this type of performance, and work closely with the performers to create an unforgettable experience for you and your guests.
Photo and Video Activities
Photo Booth
A photo booth is a popular and entertaining option for weddings.
It offers guests a fun activity and provides them with a keepsake of the event.
Photo booths come in various styles, such as traditional enclosed booths, open-air setups, and even digital booths that can be linked to social media platforms.
Props can be provided for guests to use, adding an extra element of amusement to the experience.
To make the photo booth even more engaging, consider incorporating a slideshow that displays the pictures taken throughout the event.
This can be projected onto a wall or screen for all guests to enjoy.
You may also include a digital gallery link, allowing guests to access and share their photos with friends and family.
Hiring a Videographer
A professional videographer records your wedding day, capturing moments and emotions that photography may not always convey fully.
Hiring a videographer ensures that your special day is documented in a cinematic and artistic manner.
A skilled videographer will capture not only the major highlights of the event but also the small, intimate moments shared between you and your loved ones.
In addition to the standard video coverage, many videographers offer package add-ons, such as drone footage, slow-motion video, or same-day edits, which provide a unique perspective to your wedding memories.
For those with family and friends who may not be able to attend the wedding in person, incorporating a live streaming option, such as Zoom, can help bridge the distance and include those who cannot be present physically.
This adds a real-time element to the video experience, allowing loved ones to participate and celebrate alongside you, even from afar.
Fun and Games
Outdoor Wedding Games
When planning a wedding, it is essential to incorporate various forms of entertainment for guests, engaging them in different activities.
One popular option is outdoor wedding games, which include:
Giant Jenga: This oversized version of the classic game is perfect for guests of all ages. Set up a designated gaming area, and watch as everyone stacks, aligns, and carefully removes wooden blocks.
Croquet: A sophisticated choice for a garden or lawn wedding, croquet combines strategy and technique. Be sure to provide instructions for those who may not be familiar with the game.
Beer Pong: Liven up the atmosphere with this party favorite. Set up tables and fill cups with a drink of your choice (non-alcoholic options work well too). Guests can then team up and aim to land ping pong balls in their opponents' cups.
Bocce: A classic lawn game, bocce involves tossing small balls toward a target, making it accessible and enjoyable for guests of all ages.
Badminton: Ideal for larger outdoor spaces, badminton encourages guests to interact and partake in friendly competition as they alternate hits.
Table Trivia and Quizzes
Another way to keep guests entertained during your wedding reception is incorporating table trivia and quizzes.
These can be personalized to suit your event and the interests of your guests, such as:
Related to the couple: Compile a list of questions based on you and your partner's history, favorite movies, or even embarrassing moments. Encourage friendly competition to see who knows the couple best.
General knowledge: Offer guests a variety of rounds with topics like geography, history, and pop culture, appealing to different interests and age groups.
Themed quizzes: Coordinate the quiz with your wedding theme or a relevant topic. For example, a travel-themed wedding may include questions about different countries or famous landmarks.
Remember to provide answer sheets and pencils or pens for guests to jot down their responses.
To maintain a formal tone, consider appointing a quizmaster who can facilitate the trivia and interact with the guests in a sophisticated manner.
Themed Entertainment
Retro Wedding
A retro wedding offers guests a nostalgic experience that pays homage to a specific era, such as the '60s, '70s, or '80s.
To create the perfect retro wedding atmosphere, consider incorporating entertainment that reflects the era you've chosen.
Some ideas include:
Live Band: Hire a vintage jazz band or a retro funk group to perform music from your chosen era, ensuring that guests can dance the night away to their favorite classic hits.
Themed Photo Booth: Set up a photo booth complete with era-specific props and costumes. This gives your guests a chance to capture fun moments while embracing the retro theme.
Retro Games: Provide a selection of classic arcade games or board games from the time period, encouraging guests to engage in friendly competition and bonding over their love of yesteryear.
Rustic Wedding
A rustic wedding embraces the beauty of the outdoors and the charm of simple, natural elements.
For entertainment that complements this theme, consider activities that inspire a sense of community and connection to nature.
Some rustic-themed entertainment ideas include:
Outdoor Games: Set up a variety of lawn games for your guests to enjoy, such as croquet, mini-golf, giant Jenga, and bocce ball. These activities encourage guests to mingle and participate in light-hearted fun under the sun.
S'mores Station: Create a cozy fire pit area where guests can roast marshmallows and assemble their own s'mores. This interactive dessert experience allows everyone to share stories and create new memories, all while indulging in a classic campfire treat.
Acoustic Guitarist or Harpist: Hire a talented musician to perform soft, romantic tunes during your ceremony or reception. The soothing sounds of a live acoustic guitar or harp will set the perfect mood for a rustic wedding celebration.
Special Touches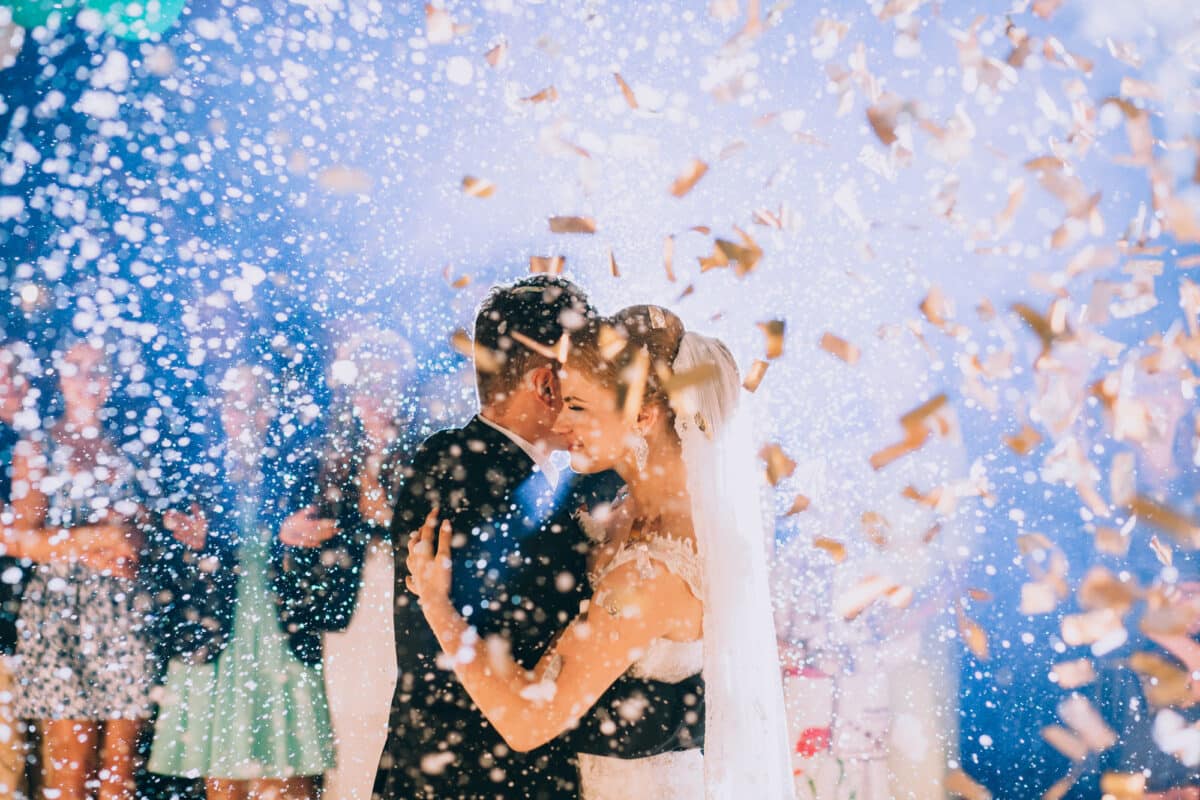 Confetti and Sparklers
One way to add a touch of magic to your wedding celebration is by incorporating confetti and sparklers. 
Confetti can be used to create a whimsical atmosphere during the ceremony or reception.
You can provide guests with small bags of confetti or employ confetti cannons to achieve a more dramatic effect.
Confetti comes in various shapes and materials, so there's something to suit every wedding theme.
Sparklers offer a unique twist to traditional wedding entertainment, inviting guests to participate in creating a memorable moment.
Handing out sparklers during key moments, such as the first dance or the newlyweds' exit, can add an enchanting and interactive experience for everyone present.
Remember to provide clear instructions to guests and practice safety measures to ensure a delightful experience without any risks.
Dove Release
A dove release can symbolize love, peace, and new beginnings, making it a beautiful and meaningful addition to a wedding ceremony.
Traditionally, two white doves are released by the couple, representing their union and the start of their journey together.
If you decide to include a dove release in your ceremony, ensure that you work with a reputable provider with experience in proper handling and care for these graceful birds.
This can help ensure a beautiful and stress-free experience for both the couple and the doves.
Covid Pandemic Adjustments
Virtual Wedding Entertainments
During the Covid pandemic, couples have sought alternative ways to entertain guests while maintaining safety measures.
One popular option has been virtual wedding entertainment. This allows guests to enjoy a variety of performances without needing to be physically present.
Some examples of virtual wedding entertainment include:
Live streaming: Couples can live stream their wedding, including dances, speeches, and toasts. This enables guests to participate and celebrate from the comfort of their homes.
Virtual performances: Professional entertainers such as musicians, comedians, or magicians can be hired to perform virtually for guests. Attendees can watch through a video conference or live stream.
Group games and activities: Couples can organize interactive online games or activities that connect guests and encourage a sense of community, despite being apart.
Safety Measures
For weddings that include in-person gatherings, implementing safety measures is critical in order to reduce the risk of Covid transmission.
Here are some precautions that can be taken during wedding entertainment:
Physical distancing: Ensure that guests adhere to social distancing guidelines. For instance, arrange seating areas by household and maintain a minimum distance of 2 meters between them.
Limited dance floor access: Designate specific areas for dancing, keeping the number of people on the dance floor limited and maintaining appropriate spacing.
Mask-wearing: Encourage guests to wear masks when they are not eating or drinking, especially when in close proximity to others or during group activities.
Hygiene stations: Provide hand sanitizing stations throughout the event space, encouraging frequent hand cleansing.
Outdoor events: Consider hosting outdoor events, as they generally pose a lower risk of Covid transmission compared to indoor gatherings.